Honda Accord
This 2012 Accord got lit up everywhere! Exterior we installed blue LED underbody kit, wheel well kit, hid lights, and smoked out tail lights. Interior we installed blue LED lights under the dash, in the trunk, and replaced all the factory lights to blue LED bulbs.
BMW
BMW's are more advanced vehicles that need to get installed by technicians with years of experience. We built a Custom Fiberglass Enclosures for a sound system package that included Kicker L7 Subs with a Tweeter built in to the box and 6.5" speakers installed in the trunk with a Crossover. Two 15" Rockford Fosgate Power Subwoofers with two MB-Quart Amplifiers and Aftermarket BMW accessories including a black billet grille.
Chrysler 300
Custom Fiberglass Enclosure design for four 15" Alpine Type R Subwoofers and four 6.5" Alpine Type R interior speakers.
Custom Fiberglass Wall design for two Hifonics Brustus Amplifiers, one mono amp and a four-channel
Custom Dash Kit built for a Double Din JVC Head Unit and an Apple iPad. This 300 upgraded to aftermarket Head Lights and Fog Lights with built in LED bulbs and Halo Lights. We also installed HID Lights to its heads and fogs.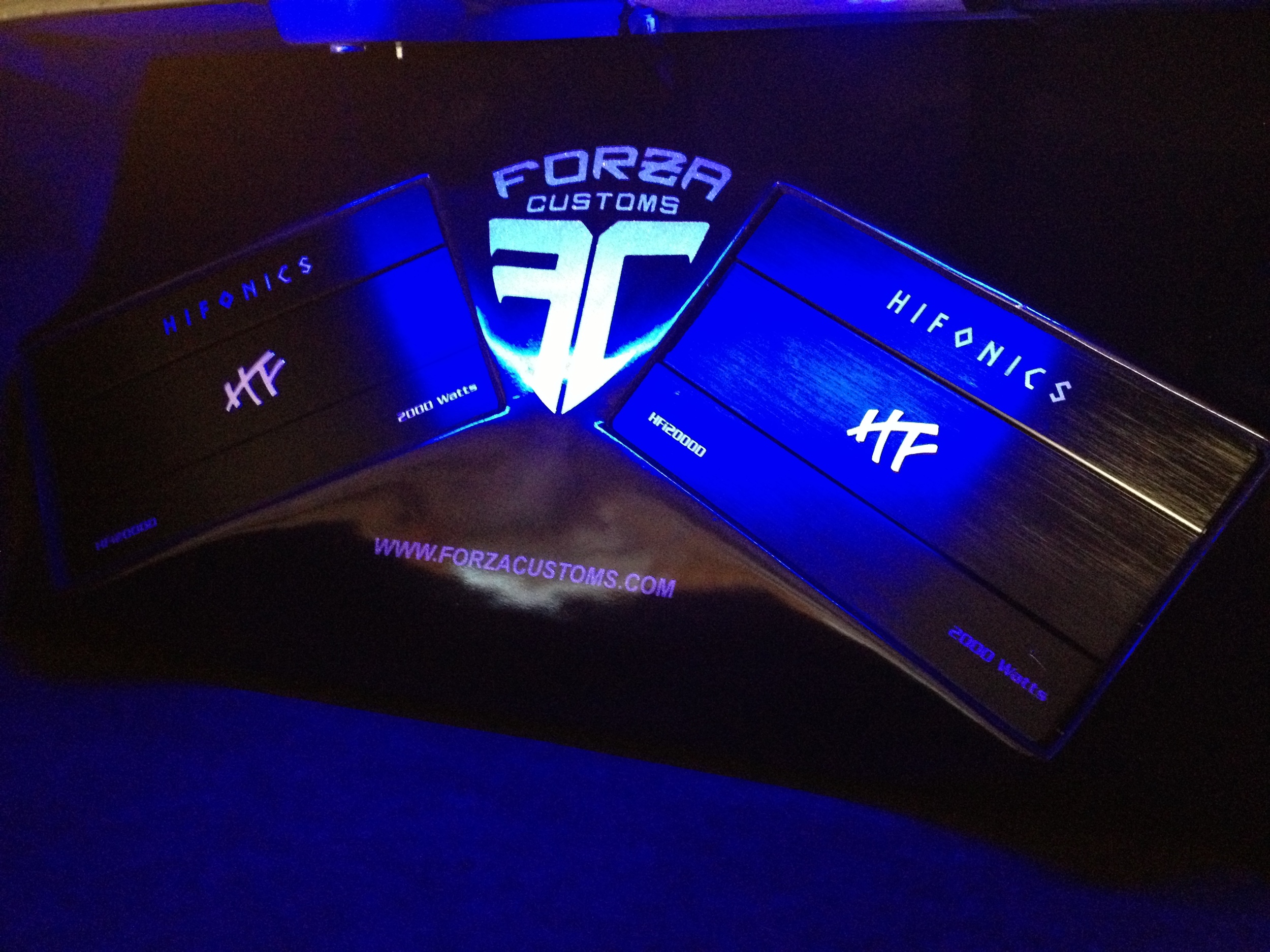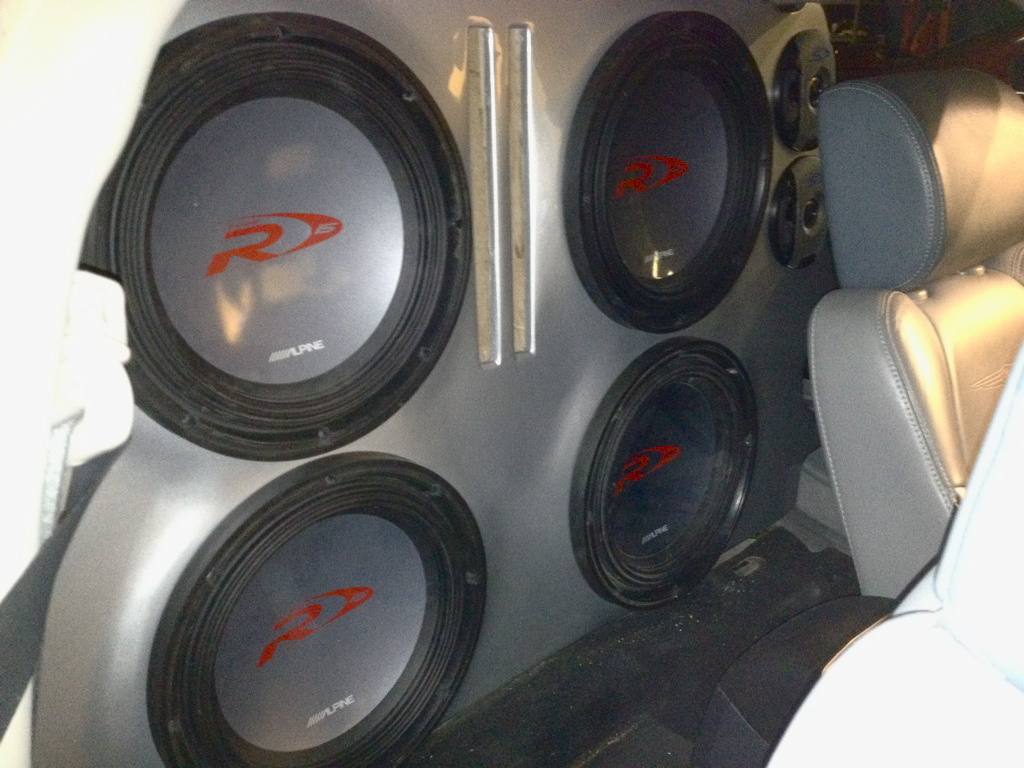 Dodge Charger
Black and Machine 22" Milanni Stellar Rims with brand new Tires and a set of HID lights on the heads and fogs.
Infiniti
Custom Mounting Kit built for a Double Din Head Unit. If they don't make a kit for your vehicle we can make one for you.
Chevy Montecarlo
All blacked out montecarlo with smoked out tail lights and 22" wheels all black with machine lip. Kenwood Head Unit with GPS Navigation
Expedition
Custom Ported Box to fit behind the third row seats. Two 15" Kicker L7 w/ flush-mount mono amp, 4-chann amp, and capacitor on top.
Cadillac Club
1 Love Cadillac Club brings in all of their Cady's to get customized from wheels to accessories to full blown out custom sound systems. Hatervision Head-rest TV's installed on the rear seats to entertain the car behind you! and a flip-down TV installed on a deville. They all got the Tablet TV Radio with the 9.3" screen made by Farenheight and Power Acoustik. Fully Secured Alarm System and Remote Starters is the first thing to get before installing any entertainment system. They got everything they need to cruise around the Chi and represent the club.
Cadillac Deville | Custom Emblem Hologram Lighting
Chevy Avalanche
Brand new 20" V-tec Wheels with a set of brand new tires. Aftermaket Headlights and Fog Lights, with a set of HID Lights. Pioneer Navigation head Unit with a rear view camera. Upgraded all of the factory interior speakers and all chrome accessories.
Buick Lucerne
Custom Fiberglass Enclosure built for two 12" Rockford Fosgate Punch P2 Subwoofers. These 800 watt subs are hooked up to a 1000.1 Maxxonics Autotek Mono Amplifier and 4-channel. Light Illumination inside the trunk to display the fiberlgass box.
Tahoe
In-Dash Flip Out TV Radio and custom ported box for two 15" Kicker L7 Subwoofers installed with a Kicker ZX 2500 watt amplifier.
Honda Civic
Kenwood DDX419 Double Din Head Unit installed with a rear view camera and iPod Connection. Built-in Bluetooth for hands-free calling.
Dodge Ram
Custom Fiberglass Box built for under the rear seats of a Dodge Ram. Sound system included two 12" shallow subwoofers and amp, for the head unit we installed a Double Din JVC with a 7" anti-theft face-off screen.
Chevy Aveo
Diamond Audio Sound System. We used 4-guage wires for the Diamond TX subs and amp. Rockford Fosgate 6.5" and 6x9" 3-way interior speakers with a set of Diamond TX tweeters flush mounted on the front doors. Two-way Avital Alarm System with Remote Start and Keyless Entry to keep intruders away! Smoked out Tail lihgts and LED on the head lights and tail lights. Installed a set of 8K HID Lights and a set of 17" Vision Wheels.
Pontiac G6
Milanni Kool Whips (black and machine) red calipers and tints all around. Smoke tail lights and a brand new Pioneer App Radio with an iPod audio/video cable to watch youtube videos. Red LED interior lighting under the dash, rear seats, and air vents all connected to an individual switch to power it on/off. Diamond Audio Subwoofers and Interior Speakers hooked up to Diamond Amplifiers.